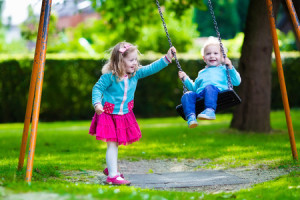 The temperatures are rising and the days are getting longer. Have you been spending time in the outdoors with your kids? Here are three reasons you should!
Vitamin D. Exposure to the sun's golden rays provides vitamin D. Vitamin D is important for overall health and well-being. In addition, it provides energy and helps to strengthen our bones and teeth. To get the most out of your time in the sun, always make sure to apply SPF 30 sunscreen and above.
Time away from electronics. Modern society is filled with technology and entertainment that utilizes screens. Are you tired of the kids spending hours glued to their tablets or computers? Spending time under the sun is a great way to keep them entertained and healthy. Take a trip to the local swimming pool or spend time playing on a playground.
Encourages physical activity. The warmer temperatures might leave you feeling like it's best to stay inside all day, but getting outdoors encourages regular physical activity. Whether you're shooting hoops on the basketball court or playing on the swings, any kind of physical activity is better than sitting around and doing absolutely nothing.
What's your favorite way to stay active outside? Use the coming months to partake in your favorite activities. Not only will it keep you busy while school is out, it will help benefit your overall well-being too.
Tweet